Disclosure: This article may contain affiliate links which means that, at no additional cost to you, I may earn a commission if you click through the links and make a purchase.
Being a blogger and having perfectionism is a nightmare. There's no one there to tell you what to get done or tell you it's "good enough" or when to get it done. The only deadlines are self-imposed.
Thankfully, I have Grammarly. This writing tool has helped me so much with not just blogging, but dealing with and overcoming my perfectionism.
If you go check out my about me, you probably wouldn't believe that writing that first post took me two years to write and finish.
Today, this is the 6th article I've written this week. I already wrote one earlier, and I've written one article for the past four days. And all articles have been over 1,000 words. Old me would be shocked and proud.
Grammarly is a must-have for every blogger. It saves me so much time and energy, especially with perfectionism.
Here's what I love about Grammarly and how it's helped me.
Easy Set Up
It's super easy to set up and simple to use. You can either use the online text editor on Grammarly, or you can install one of their extensions.
Click here to found out just how easy it is!
Easy to Use
Grammarly gives you suggestions and lets you correct most mistakes on the spot from just clicking on the correction. This makes everything so much faster and efficient rather than having to go in and correct everything manually.
Beyond Correcting Mistakes
Grammarly not only corrected my mistakes, but it also helped improve my writing and vocabulary.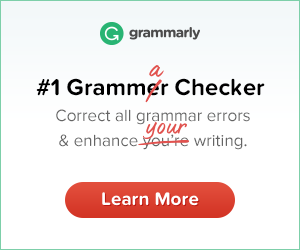 Customized Suggestions to Your Writing Style
They also have a new feature in which you can set "rules" to your content based on what it's for and what you're trying to achieve with your writing. This helps give you more customized feedback on your writing.
Accessibility
They not only have browser extension, but they also have an add-in for Microsoft office that checks your writing as you write in Word. They have a desktop app. They even have a mobile keyboard so you can correct your writing on your phone!
Metrics
You can see your performance and stats using Grammarly. In the top right corner, it gives you a score of your performance from 1-100. I normally try to aim for a 90, but no less than an 80. When you click on the performance button, it lets you know how you did in comparison to other Grammarly users as well as word count, readability score, reading and speaking time, and more.
They also send a weekly writing report to show you your writing stats of the week. This is pretty cool to look at and see that I've written over 100,000 words in a week and have been more productive than 99% of Grammarly users.
It's Free!
Although I use the paid version now, their free version is extremely useful and will help you fix the most basic and important errors in your writing.
Grammarly is not just great for blogging, it works for any kind of writing, from email to Facebook to resumes.
Click here to check out Grammarly for free!